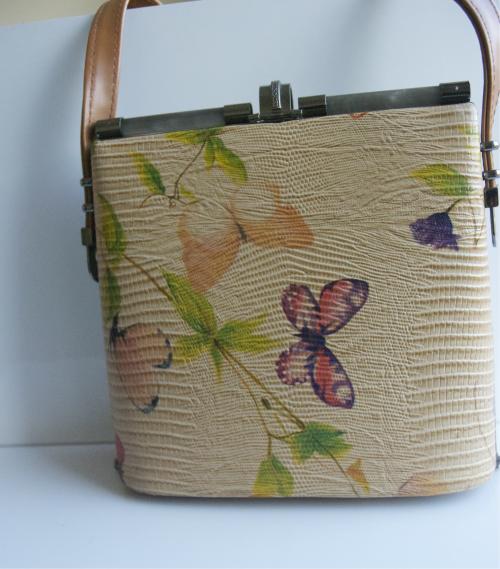 004GSV-BAGS Vintage-Butterfly-Hard Bag
Vintage BAG Collection - GLAM shop Vintage Boutique By Preloved - BAGS - PURSE - CASE - GLAM shop Vintage Boutique - Shop - Women
A word from the designer
GLAM shop Vintage - BAG Collection - Italian butterfly Handbag - hard case
GLAM shop Vintage - Bags - Italian Tan base colour bag - Butterfly design. Hard case - Crome silver details around the edge ( showing signs of wear and tear) - logo on the front say's Italy -
wide - 9cm
Tall - 19cm
Length - 19cm
The strap has a crome silver clip that sits on to a clip to hold it in place. The clip on the top ios a substancial clip that fastens well across the bag - sitting between 2 pearl clear detail clasps.
GLAM shop Vintage - All items are used - All items show signs of general wear and tear. Additional wear and tear will be painted out in the description.
Your right to cancel
Returns policy information
4GSV-BAGS Vintage,collectable,butterfly, Italian,designer,special Handbag,purse,hard case Tan,brown,beige,
Price: £9.00
Delivery: £6.00
Payments & Postage
Payments are taken via Paypal.
Additional locations email info@glamshop.me - RETURNS Accepted - Return Delivery is to be paid by you the customer - We recommend Recorded delivery
Second Class signed for Post - Fast Track Delivery is available at an extra cost
Notes from the designer
Stylish Vintage handbag